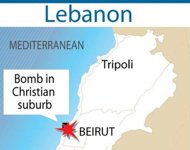 MTV reported that an explosion in Beirut's northern suburb of Antelias killed two and injured one.
The two that were killed were identified as Ihsan Naif Nassar and Hussein Ali Deeb
The explosion reportedly took place as the 2 that were killed were preparing to bomb the car of one of the Lebanese judges . The judge was not identified .
Internal Security Forces arrived at the scene of the explosion and started investigating the incident
Some reports indicated that the two that were killed in the explosion were not Lebanese
This is a breaking News ….more to follow
Update: New TV reported that the explosion targeted the car of Judge Allan Albert Serhan. His car was identified as a Nissan Murano SUV
LBC reported that Judge Allan Albert Serhan is the son of Judge Albert Serhan, head of the several chambers in Lebanon's Shura council. The targeted Judge works at an engineering company in Hajj Center across from the scene of the explosion
Lebanese Red Cross official George Kattani said Nassar was killed but Diya ( correction not Deeb) was in a coma. They were both transported to nearby hospitals
A BMW car model X5 was parked near the targeted car of Judge Serhan . The car was registered in the name of assailant Hussein Ali Diya in 2009. Diya was born in Bazouriah, Tyre district in south Lebanon. His mother's name is Zainab. His car number plate is 278458/ O
Military investigative Judge Saqr Saqr is at the scene of the explosion to investigate the incident, MTV reported
Two that were injured in the explosion were identified as Pierre George Nahra and Zaidan Elias Zughaib. They were passing by when the explosion occurred .
One person that came to scene of the explosion and inquired about assailants Diya and Nassar is being interrogated by the security forces . The guard of the parking lot where the explosion took place is also being interrogated.
Update 2: The brother of assailant Hussein Ali Diya revealed at the hospital that his brother is a member of Hezbollah