Kuwaitis demand expulsion of Syrian envoy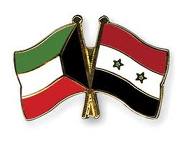 More than 2,000 Kuwaitis have rallied outside the Syrian embassy in the Gulf state demanding the expulsion of the Syrian envoy and the "freezing" of relations with Damascus.
Holding Syrian flags, the demonstrators chanted "the people want to expel the ambassador," amid a heavy police presence that prevented some protesters from approaching the embassy building.
Speakers at the rally that lasted until early on Wednesday blasted the "brutal" regime of Syrian President Bashar al-Assad for its crackdown on pro-democracy protesters in which more than 2,000 people have been killed.
The demonstrators cheered an announcement by organisers that Kuwait had in fact ordered Syrian envoy Bassam Abdulmajeed to leave, but that report could not be independently confirmed.
Kuwait on Monday recalled its ambassador from Damascus for "consultations" and strongly protested over the "bloodshed" in Syria.
Speaking at the rally, MP Mubarak al-Waalan urged the government to "freeze" Kuwait's ties with Damascus. Speakers also strongly criticized Iran for supporting the Assad regime.