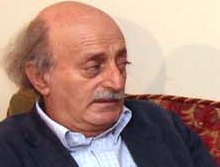 Progressive Socialist Party leader MP Walid Jumblatt told Al-Hayat newspaper in remarks published Friday that March 8 officials who adopt a vengeful manner present a "free gift" to opposition leader Saad Hariri and will weaken Prime Minister Najib Mikati.
Jumblatt said that he is against vengeance and against causing political tension. "Some are wrong if they think they can weaken Hariri like this," he added.
Jumblatt stressed that dialogue is the only "weapon" to avoid strife particularly between the Sunnis and Shiites, adding that he will "insist" to call for communication.
"Both sects have fears and are worried about the future. Only through dialogue we can protect our country."