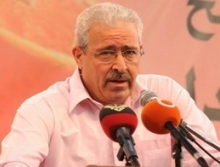 MP Fadi Awar, slammed on Wednesday the former cabinet of PM Saad Hariri calling it a fraud.
"The previous cabinet was one of fraud," he told Hezbollah's Al-Manar television.
Awar, who is a Hezbollah member was allocated to the so called 'Mountain Unity parliamentary bloc ' which is headed by MP Talal Arslan in order to allow him ( Arslan) to be part of the national dialogue talks. Only heads of blocs could participate in the dialogue talks.
"What did they do regarding issues of water, energy and road traffic? All what they did was persue the Special Tribunal for Lebanon (STL), which has legal and constitutional gaps," Awar added.
He called on the new cabinet to stop funding the STL, adding that the international tribunal is a US-Israeli court and the government should tackle the issue of witnesses who gave unreliable testimonies to the STL.
Awar's statements contradict with those of PM Nagib Mikati
In his first foreign interview since announcing a new cabinet, Lebanon's Prime Minister told CNN on Monday " We are going to proceed in this tribunal. It is not in our hand to eliminate the tribunal by any means"
Asked about funding it he said :
"It is one of the issues of the protocol and we are going to follow this protocol as is."
The Iranian and Syrian -backed Hezbollah brought down Hariri's government on January 12 over the Special Tribunal for Lebanon's (STL) imminent indictment which was widely expected to implicate Hezbollah members in the assassination of former PM Rafik Hariri in 2005
The Special Tribunal for Lebanon issued the indictments in the assassination of Lebanon's former PM Hariri on June 30. An STL delegation met with Lebanon's state prosecutor Said Mirza and handed him a copy of the Lebanon portion of the indictment and the arrest warrants. Two of the suspects Mustafa Badreddine and Salim Ayyash are reportedly senior members of the Iranian and Syrian-backed Hezbollah while the other two Hassan Aneissy, also known as Hassan Issa, and Assad Sabra played a supporting role in the execution of the assassination.
Lebanon has 30 days to find and arrest the suspects but Hezbollah chief Sayyed Hasan Nasrallah said Saturday that the party would not cooperate with the tribunal.
"No Lebanese government will be able to carry out any arrests whether in 30 days, 30 years or even 300 years."