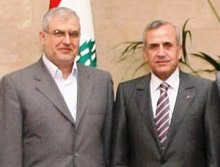 Al Anbaa ( Kuwaiti newspaper ) reported that a March 14 leader rejected the call for dialogue by president Michel Suleiman. The rejection reportedly reflected the feeling within March 14 that Suleiman can no longer be considered a centrist nor neutral nor a consensual entity since he is now considered part of the new ruling team and for this reason dialogue in this case is worthless
The March 14 leader told Al Anbaa that Syrian President Bashar al Assad and Hezbollah chief Sayyed Hasssan Nasrallah played a major role in convincing Suleiman to change his stance starting from the consultations over naming a PM, to the naming of Nagib Mikati as PM designate, signing off on a cabinet that did not include all the Lebanese parties, to the handing over of the Syrian soldiers that defected from the army despite the warnings by Human rights groups.
The March 14 leader hinted that former PM Saad Hariri may touch on these issues during his TV appearance on Tuesday .
The Iranian and Syrian-backed Hezbollah brought down PM Saad Hariri's government on January 12 over the Special Tribunal for Lebanon's ( STL) indictment which was widely expected to implicate Hezbollah members in the assassination of former PM Rafik Hariri in 2005.
Minister of State Adnan Sayyed Hussein, a Shiite who represented president Suleiman in the Hariri's cabinet had the decisive vote in the collapse of the cabinet. Hezbollah and its allies had 10 votes in the outgoing cabinet and needed 11 to topple the government.
It was Suleiman's man therefore that helped Hezbollah in overthrowing the cabinet of PM Hariri back in January .
The Special Tribunal for Lebanon issued the indictments in the assassination of Lebanon's former PM Hariri on June 30. An STL delegation met with Lebanon's state prosecutor Said Mirza and handed him a copy of the Lebanon portion of the indictment and the arrest warrants. Two of the suspects Mustafa Badreddine and Salim Ayyash are reportedly senior members of the Iranian and Syrian-backed Hezbollah while the other two Hassan Aneissy, also known as Hassan Issa, and Assad Sabra played a supporting role in the execution of the assassination.
Photo: President Michel Suleiman ( R) with MP Mohammad Raad, leader of Hezbollah's parliamentary bloc
This error message is only visible to WordPress admins
Error: No connected account.
Please go to the Instagram Feed settings page to connect an account.