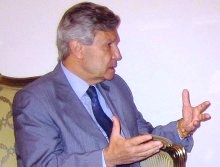 Prime Minister Najib Mikati said on Wednesday that he will carry out the appropriate constitutional decision if the if the 12 member ministerial committee failed to draft the cabinet's policy statement by the end of the constitutional period.
"I will carry out the appropriate decision based on the constitution and my national convictions if the ministerial statement is not drafted on time," he told reporters.
Parliamentary Administration Committee Chairman MP Robert Ghanem said today that the appearance of the cabinet before the parliament with the ministerial statement within thirty days present according to the Constitution Article 64 is a must otherwise it will cease to exist .
Ghanem stressed the importance of having a ministerial statement adding without it there is no government
Mikati said that contacts are ongoing between him and Speaker Nabih Berri, Progressive Socialist Party leader MP Walid Jumblat, and Hezbollah in order to reach an agreement over the policy statement clause related to the Special Tribunal for Lebanon (DSTL) and the government's commitment to international resolutions
Mikati also said that he did not meet with Hezbollah Secretary General Sayyed Hassan Nasrallah after the cabinet was formed, adding that the newly-formed government"definitely" does not belong to Hezbollah or Syria.
Mikati's remarks also came after Berri's warning that the cabinet would collapse if it fails to draft the ministerial statement by July 13.
Berri reportedly told As-Safir newspaper that if the newly-formed cabinet does not finish drafting the ministerial statement before July 13, he will call for consultations to appoint a new PM.
The Iranian- and Syrian-backed Hezbollah brought down PM Saad Hariri's government on January 12 over the Special Tribunal for Lebanon's imminent indictment which is widely expected to implicate Hezbollah members in the assassination of former PM Rafik Hariri in 2005.
Mikati was appointed in January as the PM designate with the backing of the Hezbollah March 8 alliance and MPs Walid Jumblatt and Mohammad Safadi . March 14 leaders have repeatedly said that intimidation from Hezbollah's weapons helped secure the parliamentary majority for Mikati's nomination and refused to join the government.
Mikati announced the formation on June 13 , almost five months after he was appointed