Two Dutch diplomats abducted in Lebanon, freed in Syria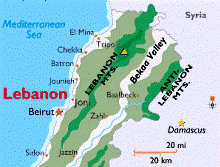 The Dutch embassy in Beirut said Thursday that two Dutch diplomats ( and not one as initial reports indicated ) were kidnapped last month in Lebanon's eastern Bekaa Valley and handed over to Syrian authorities across the border, who freed them after discovering their identity and the way they were brought into Syria.
"The two diplomats were stopped at a public road north of Baalbek by local people on May 24," Hans Peter van der Woude, the deputy head of mission at the Dutch embassy, told AFP.
"They were transferred to Syrian authorities through an informal crossing and… when the Syrians realized they were not brought from Lebanon to Syria in a formal way they sent them back."
He said the incident lasted few hours but wondered why this happened in the first place.
"We have no idea why they were kidnapped," Van der Woude said without revealing the identity of the diplomats
Al-Markaziya ( Central News Agency) quoted a diplomatic source as saying on Wednesday that armed tribesmen from Baalbek abducted the military attaché of the Netherlands Embassy in Beirut about 10 days ago, put him in an unlicensed four-wheel vehicle, with tinted windows, and drove to Syria, through an unofficial border crossing.
The Bekaa Valley area near the Syrian border is known as a lawless "no man's land " where local clans rule. The area is also home to PFLP – GC a Palestinian armed faction which enjoys Syria's backing.
Last March 23 seven Estonian cyclists were kidnapped in the area after entering Lebanon from Syria and there whereabouts are still unknown . Popular Front for Liberation of Palestine – General command ( PFLP -GC) was accused of being behind the kidnapping but denied any involvement .
It is important to note that Holland is home to the Special Tribunal for Lebanon (STL) which was created to find and try the killers of former PM Rafik Hariri.
Hezbollah brought down PM Saad Hariri's government on January 12 over STL's imminent indictment which is widely expected to implicate Hezbollah members and possibly Syria, in Hariri's assassination.