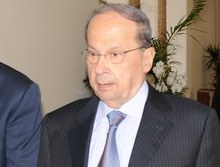 Free patriotic Movement leader MP MP Michel Aoun commented to reporters after the weekly meeting of his parliamentary bloc about the lack of women ministers in the new cabinet by saying:"We did not have any women candidates to nominate , but we welcome their opinions, my house is full of women, and I am very popular among the female population.
The previous cabinet had two women ministers. This one has none.
Responding to U.S. position on the Cabinet he said : Let them be assured that justice will be completely met. We are not in a confrontation with the international community. We want the STL's justice and we respect resolution 1701.
In response to a question about Fayez Karam's possible release, Aoun said : A legal issue should remain in the hands of the judiciary, but some procedures should be amended.
Retired General Karam , a senior Free Patriotic Movement (FPM) official, was arrested by the Internal Security Forces (ISF) – Information Branch last August and was charged with espionage and providing Israel with information on Hezbollah, FPM leader Michel Aoun's closest ally.
Hezbollah reportedly knew that Karam, was collaborating with Israel from the moment he was arrested last August , an Arab diplomat told Al-Balad newspaper in an interview published last October 22.
In response to question about the stance of Lebanese Forces leader samir geagea and Pahalnge party
leader Amin Gemayel he said : "If a person is an Owl what can I do "
In response to a question about the withholding of confidence vote for the cabinet by some he said :
"We are currently dealing with this issue" . This was a possible reference to Minister Talal Arslan who resigned yesterday following the announcement of the cabinet and said his bloc will withhold the confidence vote .
The Lebanese women were angered by the lack of women in the cabinet .
"Needless to say the women's movement rejects this total alienation of women from the cabinet and in the Lebanese political arena in general. And yet, it comes as no surprise that our sectarian political system continues to place religious quotas as a priority over the representation and issues of any group in Lebanon. From minority groups to even majority groups, we are still unable to form strong lobbies to demand a share in this country's decision-making spheres. Women's issues have no representatives and neither do youth issues or social issues in a cabinet of ministries that are supposed to work on specialized sectors that run and govern the country." A press release posted on Nasawiya website sttaed yesterday following the announcement of the cabinet.
One woman observer told Ya Libnan : "Women represent half the population of Lebanon. This is a paralyzed cabinet "