Lebanese open homes to 'Arab brothers' fleeing Syria
Mahmoud Orabi fled his hometown in southern Syria to cross the border into neighboring Lebanon wearing only his pajamas.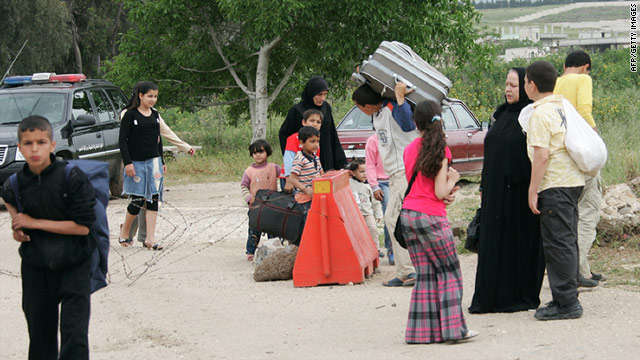 Nearly a month later, he is still wearing the same clothes and has no idea when he and his family will be able to return home.
Orabi and his family were among thousands of Syrians who fled the town of Tall Kalakh and its surrounding area last month after an alleged crackdown by security forces and military bombardment.
A large proportion of the town's men were arrested and most of those who fled were women and children, according to Amnesty International.
"My whole family came with me, no-one stayed there in Syria. I have one boy who was shot and another who was jailed in Syria," said Orabi.
"We decided to come to Lebanon because of the bad scene back home; killing, oppression, destruction, and what can I say. While on the way, they shot at us, a young man and lady died."
An estimated 4,000 people have crossed from Syria into Lebanon fleeing violence in recent weeks, according to the United Nations Higher Commissioner for Refugees (UNHCR), although it said accurate numbers are difficult to confirm.
The majority of those who have fled are staying with Lebanese families in the Wadi Khaled area of northern Lebanon, some with friends or extended family, but many with strangers who have opened their homes to the refugees.
"We did not know any of these host families, but they still opened their houses for us," said Orabi.
The Lebanese authorities and international organizations such as UNHCR have assisted by distributing mattresses, blankets and food kits, and providing medical assistance, but much of the burden has fallen on ordinary families.
Saadallah Smeiran, who lives in Wadi Khaled, northern Lebanon, is hosting seven families comprising 40 individuals between his own house, his brother's house and his parents' house.
He said: "We waited at the crossing between Syria and Lebanon, and asked the families coming whether they have a place to stay or not. When they say no, we assign one family a host family, and we record that."
Smeiran said that some arrived injured after their cars were shot at, and that he took some people to hospital.
"We paid from our own money to have these people cared for at hospitals," he said. "We received them on the basis that they are fleeing injustice and oppression in their homeland. We are all Arabs and we should support our brothers.
Smeiran added: "We are willing to open our houses and let them sleep in while we sleep outside.
"Daily we are hearing shootings from the Syrian side. One of the people I have at my house is an ex-soldier who fled because he was ordered to shoot at the demonstrators."
Another Syrian Um Jamal, who fled Tall Kalakh with his family said their truck was shot at as they headed for the Lebanese border.
He said: "We came to Lebanon and we knew no one. These people opened their houses for us. They found us on the crossing, so brought us to stay with them. We did not get anything from Syria, even our money."
Jamal added that those who left had had their homes destroyed and could not go back to Tall Kalakh.
A Lebanese woman, who spoke to CNN on condition of anonymity, said she had a family of 39 staying in her home.
She said: "It is a big family. We don't know those people we are hosting. They just came to us looking for help, so we opened our houses for them.
"They will stay until the Syrian regime is gone. They can't go back to Syria because their houses are destroyed."
Cilina Nasser, a researcher for Amnesty International, traveled to the region in late May to interview displaced Syrians.
She said: "The majority are women and children and are too scared to go back.
"The stories we are hearing is that there was a crackdown with many arrests and heavy artillery fire.
"Every family I have met has at least one member who was detained. It seems they were cracking down on an armed resistance in the area, but that does not justify this mass arrest."
It is not clear whether those firing at civilians were government forces or militia.
A UNHCR field coordinator, who asked not to be named, said: "There's a lot of community spirit. People are sharing the burden. They are just opening their houses and sharing what they have with relatives, friends and guests."
It is hard for anyone to know when they will be able to return to Syria.
Smeiran said that some Syrians had been told it was safe to return and had been arrested when they did so.
He said: "So no-one dared to go back. The period of their stay might be long. This is why we fear that our resources will not be enough to support them."
Orabi said: "Even if the regime is gone, the situation will stay as it is, and if we go back they will kill us all."