Airlines aim to take hassle out of security checks
Eye scanners and futuristic security tunnels may be standard in airports soon as the airline industry seeks to maintain safety while reducing the hassles of boarding a plane that deter some people from flying.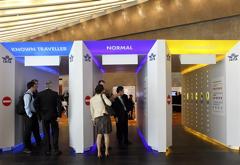 The International Air Transport Association unveiled a mock-up Tuesday in Singapore of what it dubbed the "Checkpoint of the Future," where passengers separated by security risk would walk through one of three high-tech, 20-foot-long (6.1-meters-long) tunnels that can quickly scan shoes and carry-on luggage and check for liquids and explosives.
"Passengers should be able to get from curb to boarding gate with dignity," IATA Director General Giovanni Bisignani said. "That means without stopping, stripping or unpacking, and certainly not groping."
Airlines are seeking ways to win back passengers put off by long and irritating airport security measures who have opted to travel instead by train, boat or car. IATA said Monday it expects the industry's profit this year to plummet to $4 billion from $18 billion last year.
U.S. Transportation Security Administration chief John Pistole said he thinks IATA's security system, which it hopes to implement within five years, is a great idea.
"It's something that's long overdue," Pistole said at IATA's annual conference. "We're not at the checkpoint of the future yet but we're working toward that. I think eventually we will see something similar."
The TSA has been working for the last six months on developing a system that could differentiate passengers by security risk to cut down on needless checks, Pistole said.
"One size does not fit all," Pistole said.
The TSA will likely start a pilot program this year in some airports that allows frequent flyers or other travelers with clean records to receive minimal checks, he said.
In the IATA prototype, passengers would be categorized based on the results of a government risk assessment that is put into a chip in a passenger's passport or other identification. An eye scan would then match the passenger to the passport.
Low-risk passengers would walk through a tunnel with their carry-on luggage in just a few minutes — much quicker than the current average security screening of 35 minutes, IATA said. High-risk passengers would be directed to walk through the tunnel that performs a full body scan while searching for items like explosives.
"We must amalgamate intelligence based on passenger information and new technology," Bisignani said. "That means moving from a system that looks for bad objects, to one that can find bad people."
Former Cathay Pacific Chief Executive Tony Tyler replaces Bisignani as IATA's leader next month. Geneva-based IATA represents about 230 airlines that account for more than 90 percent global air traffic.
One obstacle to the proposed system is that governments could be reluctant to share passenger background information, said Ron Noble, secretary-general of Interpol, the France-based international police agency.
"Most countries don't want other countries to have data of their citizens," Noble said.
Airline executives were also concerned about whether the new system would rely too much on technology at the expense of human observation.
"Only technology is not the solution," said Elyezer Shkedy, chief executive of El Al Israel Airlines. "You must always change your way of defending. Otherwise, terrorists will find your weak points."