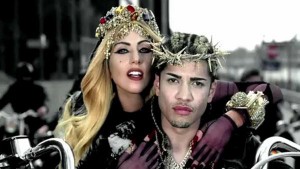 Lady Gaga's monster fans in Lebanon might not be able to get their hands on a copy of the singer's latest album, "Born This Way," any time soon.
The country's government has seized copies of the album that came through the airport in Beirut late last week because they were deemed potentially offensive to the Christian population in the country, according to the Los Angeles Times.
"We collected the CDs on the grounds that the music was offensive to religion," one official from the office of censorship told the newspaper. "They are still in our offices. We are still deciding what to do with them."
A more specific reason for the potential ban was not given. Gaga's second single from the album, "Judas," was also banned on Lebanese radio in April.
According to the newspaper, a 1962 Lebanese Law states, "Distributors are prohibited from circulating media that diverges from public decency and morality, or is at odds with nationalistic or religious beliefs."
Gaga initially ignited religious controversy in early May over her "Judas" music video, which depicts the singer as Mary Magdelene in a biker apostle gang. The 25-year-old singer denies that the video is meant to be an attack on religion.
"This video is not meant to be an attack on religion. I respect and love everyone's beliefs," Gaga told MTV. "I'm a religious and spiritual person who's obsessed with religious art. I'm obsessed with it… I believe I was put on this earth to cause a ruckus… I just want to keep making stuff that's great and thought-provoking."
In the video, there appears to be a love triangle between Mary Magdalene, Judas (Norman Reedus from "The Boondock Saints") and Jesus (Rick Gonzalez from "Coach Carter" and "Reaper") which is manefested in an erotic re-imagining of Magdalene washing Jesus' feet.