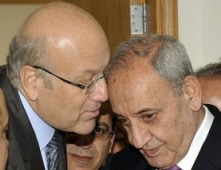 Speaker Nabih Berri continues to insist on holding the parliament session:
"The session stands until the day of resurrection; if it lacked the quorum on June 8 we will call for another session the next week and so on." He was quoted as saying .
Commenting on criticism of the session by Siniora, Berri said:
"If a hundred MPs attended the session and the Sunni MPs were absent I will not hold a session as opposed to when former PM Fouad Siniora held Cabinet sessions when all of its Shiite ministers had resigned."
Siniora said on Sunday that the Hezbollah-led March 8 coalition is attempting to "make parliament take over the role of the cabinet," adding that "such moves violate the constitution."
Berri denied there are any disagreements between him and PM designate Najib Miqati, saying that the meeting that was supposed to take place (between the two of them) "was cancelled because he had to head to the South".
Berri pointed out that Miqati held a meeting Friday night with Hezbollah chief Sayyed Hassan Nasrallah's advisor Hussein Khalil and his aide MP Ali Hassan Khalil at his residence in Verdun.
An Nahar reported on Sunday that Amal Movement leader Speaker Nabih Berri boycotted the mediation meeting with Prime Minister-designate Najib Mikati by not sending his political aide Ali Hassan Khalil to the Saturday meeting. Only Hezbollah Secretary General Sayyed Hassan Nasrallah's political aide Hajj Hussein Khalil attended the meeting .
This was understood to be a tit for tat move by Berri who was reportedly angered by Mikati's decision to boycott the parliamentary session scheduled for June 8.
Similarly Amal MP Yassine Jaber said on Monday that the relations between Speaker Nabih Berri and Prime Minister-designate Najib Mikati are not severed.
"The relations between Berri and Mikati are not severed, but have become frustrated because of the cabinet-formation delay ," he told LBC television.
Berri has called for a parliamentary session on June 8 to discuss the renewal of Central Bank governor's tenure along with 48 other issues , a move March 14 parties have rejected.