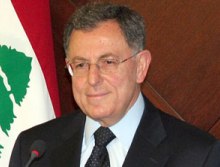 Former Lebanese PM and current Future bloc leader MP Fouad Siniora said on Sunday that the Hezbollah-led March 8 coalition is attempting to "make parliament take over the role of the cabinet," adding that "such moves violate the constitution."
"The work of the executive branch (cabinet ) and legislative branch [parliament] should be completely separate," Siniora was quoted by National News Agency as saying.
"The announcement to convene parliament was made without even reaching an agreement between all parliamentary blocs ," he added.
He also said that Central Bank Governor Riad Salameh's term should be renewed. However, he added that "this issue can be handled through the cabinet and not through the parliament."
Siniora added that Lebanese domestic problems "cannot be resolved through extremism but through the use of dialogue."
Speaker Nabih Berri called for a parliament session on June 8 despite strong objections by some parties.
waste of time
Similarly Minister of State Jean Ogassapian said on Sunday that Berri's call to hold a parliament session on June 8 "is nothing but a waste of time."
"The call to convene parliament confirms even more that the Hezbollah-led March 8 coalition did not have any project for the state ," the minister told Future TV
He added that March 8 parties' "failure and fragmentation" has been clearly shown.
Khalil attacks Siniora
Speaker Berri's political aide, Ali Hassan Khalil, responded to Future bloc leader MP Fouad Siniora's statement .
" Siniora was the only one in the history of the Lebanese republic to violate the charter and constitution," Khalil said according to the National News Agency.
The Amal MP said Siniora violated the constitution when he resumed the work of an "unconstitutional cabinet." Khalil was referring to when Hezbollah- Amal-backed Shiite ministers resigned from the cabinet in 2006 during Siniora's tenure as prime minister.
The former PM is the one who violated legislative authority and worked on approving financial commitments without the parliament's approval, added Khalil.
Houri defends Siniora
March 14 MP Ammar Houri responded on Sunday to Khalil, who lashed who attacked Siniora earlier.
"It seems failure has different forms, including unjustified excessive tension and regression of political speech," Houri said according to a statement issued by his press office.
According to observers the parliament session that Berri called for resulted in the disintegration of the new majority . The parliamentary blocs of MP Walid Jumblatt and PM Designate Nagib Mikati decided to boycott it. Jumblatt's bloc has the decisive vote in the parliament.