UN chief voices alarm at escalation of violence in Syria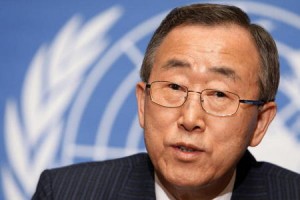 UN Secretary-General Ban Ki-moon today voiced his alarm at the escalation of violence in Syria, which has reportedly claimed at least 70 lives over the past week alone, and called for independent and transparent investigations into all the killings.
This week's toll in the ongoing Government crackdown against protesters calling for reform brings the number of casualties to more than 1,000 since mid-March, with many more injured and thousands arrested. The protests are part of a broader uprising this year across North Africa and the Middle East.
A statement issued by his spokesperson stated that Mr. Ban is "deeply troubled" by the continued serious violations of human rights, including disturbing reports of the deaths of children under torture, live ammunition and shelling.
"All killings should be investigated fully, independently and transparently," it said.
Mr. Ban took note of the announcement by the Syrian authorities of an amnesty and the establishment of a committee to establish a national dialogue.
"He emphasizes, however, that violent repression by security and military forces must end immediately for a genuine and inclusive dialogue to take place and lead to the comprehensive reforms and change called for by the Syrian people," the statement said.
The Secretary-General's concern was shared by his Special Representative on Violence against Children, Marta Santos Pais, who today urged the Syrian Government to ensure the protection of all children amid the ongoing unrest.
"Violence against children must stop and children's safety must be upheld at all times," she stated in a news release. "Children need to be protected from unlawful arrest, torture and ill-treatment, and their lives should not be put at risk under any circumstance."
Earlier this week, the UN Children's Fund (UNICEF) said it had received, but could not independently confirm, information that the use of live ammunition against demonstrators has reportedly left at least 30 children dead.
Ms. Santos Pais called on the Syrian Government to ensure the protection of all children from violence. She also called for the thorough and impartial investigation of all reported child deaths and incidents of violence against children, including alleged cases of unlawful arrest in demonstrations, and torture in detention.