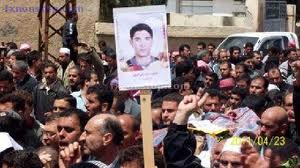 The city of Hama which witnessed the largest massacre in Syria's history in 1982 is witnessing another massacre today , the Facebook group, the Syrian Revolution 2011 has reported.
The group said that the city of Hama which is drowning in blood has appealed to the rest of the Syrian cities to block its roads in order to prevent the Syrian security reinforcements of reaching it as the death toll has risen to over 130 and more than 350 were injured.
Al-Arabiya quoted Syrian activists as saying that Hama's hospitals are filled with injured protestors
The Facebook group, The Syrian Revolution 2011, which boasts more than 195,000 followers reported on its page that tens of thousands are protesting in Hama and several other cities including Aleppo , Homs, Daraa, Deir el Zour , Damascus suburbs etc.
The group called today for nationwide protests to honor the Children that have been killed by the security forces, such as 13-year-old Hamza al-Khatib whom activists say was tortured to death.
Over 1200 protesters have been killed and over 10,000 have been arrested since the revolt started last March 15
The big Hama massacre occurred in February 1982, when the Syrian army, under the orders of the president of Syria Hafez al-Assad, father of the current president Bashar conducted a scorched earth policy against the town of Hama in order to quell a revolt by the Sunni Muslim community against the regime of al-Assad. Between 20,000 and 30000 were reportedly killed during that massacre