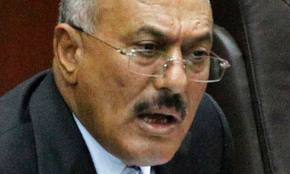 With reports emerging the Yemeni president was injured in a Friday attack, Washington maintains it's time for him to sign a resolution on his resignation.
Yemeni President Ali Abdullah Saleh has clung to power for most of the year amid growing pressure from demonstrations and tribal fighters to end his presidency.
Saleh has repeatedly refused to sign a deal brokered by the Gulf Cooperation Council that calls on him to stand down in exchange for immunity.
Mark Toner, a spokesman for the U.S. State Department, said Washington was working on new ways to convince the embattled president to stand down.
"But at this point, we continue to work closely with the Yemeni government in trying to urge that he sign (the GCC agreement)," he told reporters during his regular press briefing. "He has committed to signing this agreement, and again, we urge him to sign it."
An official in the ruling General People's Congress was quoted by al-Arabiya as saying Saleh was "lightly wounded" in the head in an attack Friday that killed four presidential guards.
The attack allegedly came from fighters loyal to tribal leader Sadeq al-Ahmar.
GCC Secretary-General Abdul Lattif al-Zayani told al-Arabiya continued fighting in Yemeni wasn't benefiting any of the parties involved.
"The ministerial council of the GCC is following with concern and sadness the deteriorating situation and the continued fighting," he said.