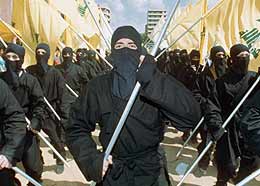 The back and forth accusations between resigned Telecommunications Minister Charbel Nahhas and Future Movement over Thursday's incident don't seem to be coming to a halt any time soon.
Future Movement MP Ammar Houri told Future TV on Sunday that Nahhas intended to give the telecom network found on the second floor of the Telecommunications Ministry building in Adliyeh to Hezbollah.
Houri also said that he will ask Nahhas about "huge financial scandals" regarding the ministry during Monday's meeting of the Media and Telecommunications Commission.
Nahhas and Ogero
Nahhas said on Sunday that Ogero's Director General Abdel Monem Youssef "is a liar and is wanted by the Lebanese army."
"Youssef is a rebellious employee," Nahhas told New TV, adding that Youssef had now "escaped" from Lebanon and is in possession of "cards" relating to devices found on the second floor of the Telecommunications Ministry building in Adliyeh.
"We registered a complaint in the military court so that the authorities take [appropriate] measures regarding the witnessed rebellion."
The devices on the second floor of the ministry's building in Adliyeh, which are not currently being used, will be transferred and used for the benefit of the Lebanese people , he also said.
Youssef's "claims" that Ogero rented the second floor in the ministry's building in Adliyeh from the Telecommunications Ministry are not true, Nahhas added.
"The devices on that floor are the property of the Lebanese government which is represented [there] by the Telecommunications Ministry."
On the other hand Ogero's Director told New TV on Sunday that he will return to Beirut from France on Tuesday, adding that he traveled after Nahhas signed a vacation form on May 20 granting him a 15 day vacation.
Youssef also said that he is in France to undergo simple surgery, and voiced surprise over suggestions that he has left the country and is "not coming back."
Addressing Nahhas' MP Michel Aoun, Youssef said "I tell Aoun, there is no need for a summoning warrant. If the Lebanese judiciary wants to summon me, I am at its disposal."
Youssef also denied accusations that he is in possession of magnetic keys to devices found on the second floor of the Telecommunications Ministry building in Adliyeh.
"It is not true that I have magnetic keys. I hope Aoun provides proof of that if he has any," he also said, adding that the whole issue should be left to the judicial bodies to look into.
Aoun said earlier on Sunday that Youssef had traveled and voiced doubt over whether the latter would return to Lebanon. Aoun also said that a warrant to summon or arrest Youssef must be issued.
On Thursday, Nahhas said in a press conference that Internal Security Forces (ISF) units had illegally occupied a building owned by his ministry in Adliyeh. The Lebanese army was handed the building on Friday.
Caretaker Public Works and Transportation Minister Ghazi Aridi told LBC television on Sunday: "Because of what's happening today in the country, we must be ready for anything," adding, "We are heading toward chaos."
Aridi commented on Thursday's Telecom ministry incident blaming it on mismanagement at the ministry : "I don't disagree with resigned Telecommunications Minister Charbel Nahhas, but there is a correlation between 'will' and 'management'."
Aridi said that Nahhas had no right to act the way he did, adding that the telecommunications minister should know how to be a good manager.
Dr. Ziad Ajouz leader of the Free Nasserite Movement described Nahhas' plan to dismantle the Ogero telecom station as a militia action. Ajouz said Nahhas was accompanied by Hezbollah gunmen to dismantle the OGERO station that is being always guarded by the internal security forces. Ajouz said that Nahhas got the password Wednesday from Hezbollah chief Sayyed Hassan Nasrallah.