Syrian children orphaned By crackdown escape to Lebanon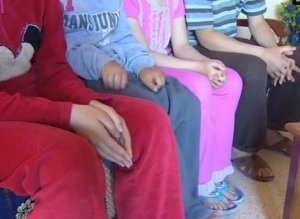 A bloody crackdown by Syrian troops sent four children fleeing their hometown, sometimes crawling across the mountainous terrain between Lebanon and Syria, in a frantic effort to get to safety.
They made the exodus without their mother and father and became part of the about 4,000 Syrians the U.N. says have crossed into Lebanon in recent weeks.
The ordeal for the four children, ages 9 to 13, began when their family was visiting an uncle. The visit was interrupted when government troops moved against the border town of Tal Kalakh, they said. Their parents left to check on their home, expecting to return soon.
"We thought that they would be gone for two or three hours," the 13-year-old boy, Omar, told CNN.
But the offensive was so intense, the parents were trapped. Their father was shot dead.
"My mother was crying. She could barely talk," the oldest of the children, 13-year-old Omar, told CNN. "She said, 'Your father died,' and then the phone cut off."
The four children then escaped, sometimes crawling across the rugged border with Lebanon to avoid detection by Syrian troops. They now live with their aunt, a Syrian married to a Lebanese, in a village near the frontier.
They tell stories of bloated bodies lying in the streets of Tal Kalakh, one of several Syrian towns facing a crackdown by President Bashar al-Assad's government. Their aunt says they can't sleep and are traumatized by what they've seen and heard.
"If they hear a firecracker that the other kids play with, they are petrified," she said. "Or if they see black cars similar to the ones that the Syrian authorities use, they scream, 'Auntie, they have come for us.' "
Their mother is still in Syria, refusing to leave her husband's body — afraid that snipers will shoot her if she tries to bury him, or that the Syrian military will take the body away.
"There is news that they are burning the bodies or grinding them up with garbage," the aunt told CNN.
Lebanese authorities have told the office of the U.N. High Commissioner for Refugees that about 4,000 Syrians have crossed into Lebanon in recent weeks. UNHCR says many of those who have fled arrived with only the clothes on their backs and reported Syrian troops bombarding Tal Kalakh.
Lebanese relief organizations are doing what they can to make refugees comfortable, issuing mattresses, blankets and boxes of food staples that can feed a family of five to seven for about a month.
The supplies are often handed out to local officials, who then provide them to families who have made it across the border. Many of those families remain in the shadows out of a combination of fear and shame.
Human Rights Watch said it has documented the detention of several refugees by Lebanese security forces and urged Lebanon not to send them back to Syria, which took in many Lebanese refugees during the 2006 Israeli bombardment of Lebanon.
Though local families are taking in many of the Syrians, many of the refugees remain terrified of retribution at the hands of the regime they escaped.
CNN