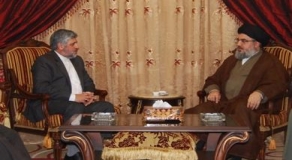 Hezbollah chief Sayyed Hassan Nasrallah held talks with visiting Iranian President Mahmoud Ahmadinejad's envoy deputy Foreign Minister Mohammed Reza Shibani and his accompanying delegation that included Iranian Ambassador to Lebanon Ghazanfar Rokn-Abadi to discuss the latest local and regional developments, according to a statement issued by Hezbollah.
Hezbollah statement did not elaborate any further.
Shibani arrived to Lebanon on Thursday and met with Lebanese officials and March 8 figures.
PM Designate Nagib Mikati reportedly discussed with the Shibani the importance of developing the bilateral relations and implementing agreements between the two countries, especially in the economic sector, according to local reports.
Shibani's visit coincided with the the visit of U.S. Assistant Secretary of State for Near Eastern Affairs Jeffrey Feltman who arrived in Beirut also on Thursday and left to Athens Saturday morning.
Hezbollah chief is scheduled to make another TV appearance via video link on Wednesday the day which marks the 11th anniversary of Israel's 2000 withdrawal from Lebanon. Israel withdrew on May 25 after 22 years of occupation. Hezbollah was credited by all the Lebanese for liberating south Lebanon but has since fallen from grace by its own hands when it pointed its guns against the Lebanese people after its 2006 war with Israel .
Okaz newspaper reported that Nasrallah on Wednesday is expected to voice his party's "absolute support for the Syrian regime and present any possible aid requested by the Syrian authorities."
Many of the Syrian activists have claimed that Hezbollah and Iran are helping the Syrian regime in its crackdown against the protesters
This error message is only visible to WordPress admins
Error: No connected account.
Please go to the Instagram Feed settings page to connect an account.