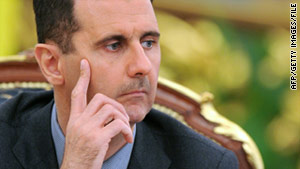 The Syrian government has condemned the U.S. sanctions targeted President Bashar Assad.
The U.S. announced on Wednesday it was slapping the sanctions on Assad and six senior aides for the country's brutal crackdown that has killed more than 850 people since a popular uprising began in March.
Syrian state-run TV said on Thursday that the new measures are part of U.S. regional projects that "serve Israeli interests" and will not affect Syria's future decisions.