Mikati: Nothing accomplished in meeting with Hezbollah Amal aides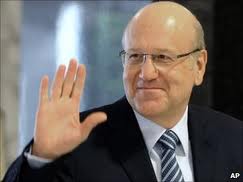 Al-Manar TV , the mouthpiece of Hezbollah reported on Tuesday that Prime Minister-designate Najib Mikati will meet on Tuesday evening with Speaker Nabih Berri's political aide Ali Hassan Khalil and Hezbollah Secretary General Sayyed Hassan Nasrallah's political adviser Hussein Khalil to resume discussing "details of the cabinet formation process."
Mikati sources told Al Mustaqbal newspaper that the Khalils repeated the demands of MP Michel Aoun during their meeting with the PM designate , while Mikati repeated his demand for answers on the issues he raised last week during their meeting . Nothing was accomplished in the meeting except the resumption of the talks on the issue of government formation.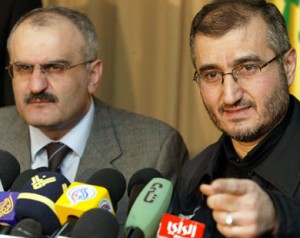 The Iranian and Syrian backed Hezbollah brought down PM Saad Hariri's government on January 12 over the Special Tribunal for Lebanon's (STL) imminent indictment which is widely expected to implicate Hezbollah members in the assassination of former PM Rafik Hariri in 2005.
Lebanon has been run by a caretaker government since last January. Mikati was appointed in January as the PM designate with the backing of the Hezbollah led-March 8 alliance, MPs Walid Jumblatt and Mohammad Safadi . March 14 leaders have repeatedly said that intimidation from Hezbollah's weapons helped secure the parliamentary majority for Mikati's nomination.
Former minister Wiam Wahhab a staunch ally of Hezbollah and Syria said Monday Following talks with Free Patriotic Movement leader Michel Aoun at his al Rabiyeh residence that the new majority is discussing legal ways to get rid of Mikati.
An Nahar sources who keep pace with the process of the formation of the Lebanese government reported that in the past two days there has been no contact between the parties concerned .
The sources also reported that the relations between some of the parties of the new majority and President Michel Suleiman and Prime Minister-designate Najib Mikati have deteriorated following the campaign waged by those parties against the president and the PM designate .
The sources said that the campaign ( against the president and the PM designate ) has Syria's blessing .
New obstacles came up after an agreement was reached on naming retired Brigadier Marwan Charbel as the Interior Ministry …. Aoun is strongly against allocating any share in the cabinet to president Suleiman . Aoun is also insisting on naming all the Christian Maronite ministers, the sources reported