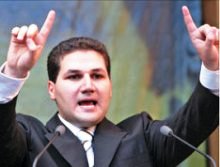 Phalange party bloc MP Nadim Gemayel said on Wednesday that the existence of non-state weapons in Lebanon was behind the the postponement of a conference that was meant to support the Syrian people at the Beirut Bristol Hotel.
"Pressure was exerted from the March 8 coalition and from an armed party in order to prevent holding the conference," Gemayel told LBC television in a reference to Hezbollah.
"What happened was shameful for Lebanon and unacceptable," the MP added.
He told LBC:" I'm ready to host the pro-Syrian people meeting at my office. The situation in Syria is unacceptable."
The Bristo Hotel l management decided it could not host the event due to concerns over a confrontation between the pro-Syrian regime supporters and the supporters of the people of Syria who have been protesting against the regime