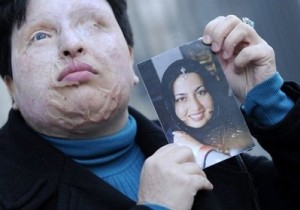 A punishment in which an Iranian man was to be blinded by having acid dropped into his eyes has been postponed after international condemnation.
Majid Movahedi was convicted and sentenced for pouring a bucket of acid over Ameneh Bahrami after she rejected his marriage proposals.
The attack left her blind and severely disfigured.
The court-ordered retribution was due to have been carried out yesterday in Tehran.
But it is understood the authorities in the Iranian capital decided to postpone the punishment, which is allowed under Sharia law if the victim requests it, because of national and international disquiet including concerns raised by the British Government.
Yesterday Ms Bahrami told Al Jazeera, the Qatar-based news service: 'I was very happy that this was going to end today.
'And yes, I was going to carry out the punishment myself, but I was afraid that I would get acid on my hands, so a doctor was going to do it. It's been six years that I've been waiting. The verdict is completely legal.'
On November 3, 2004, Movahedi ( pictured) poured a bucket of acid on Ms Bahrami's head as she was leaving work, after she had rejected his marriage proposal several times.
Two weeks after the attack Movahedi surrendered himself to the police.
He admitted attacking Ms Bahrami and his punishment was ordered by a court in 2008.
Among those unhappy about the prospect of Ms Bahrami exacting such a brutal revenge on her attacker was Amnesty International.
The organisation called for a stay of the sentence, which it described as 'cruel and inhuman . . . amounting to torture'.
'The Iranian authorities have a responsibility under international law to ensure it does not go ahead,' it added.
Ms Bahrami, who was 24 when she met Movahedi in 2002, now lives in Spain where she has been undergoing medical treatment. She is blind in both eyes and still has serious injuries to her face and body.
Top Photo: Ameneh Bahrami was left with horrific scars after Majid Movahedi threw sulphuric acid in her eyes after he had begged her in vain to marry him. She is seen here holding  a photo  of how she used to look