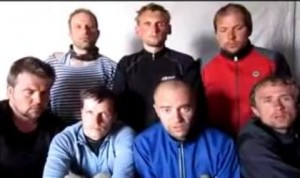 Nearly seven weeks after the kidnapping of seven Estonian cyclists in Lebanon, the case remains shrouded in mystery with little information gleaned on their whereabouts or those behind the abduction.
The seven men, all in their 30s, were kidnapped on March 23 shortly after entering Lebanon on their bicycles from neighboring Syria.
A previously unheard of group, Haraket Al-Nahda Wal-Islah (Movement for Renewal and Reform), has claimed responsibility for the kidnapping and demanded an unspecified ransom to free the seven Estonians in two emails sent to a Lebanese website.
An undated video last month was also uploaded to YouTube showing the Estonians begging Lebanese, Saudi, Jordanian and French leaders to secure their release.
The source said that while investigators had not been able to track down the origin of the two emails they had managed to determine that the video had come from Damascus.
"They [investigators] know the name and the address of the people behind this tape which originated in Damascus," a security source said, without elaborating.
"French and Estonian investigators are aware of this and the Estonians have appealed to Damascus for help." the source said
The source also added that given the situation in Lebanon (unable to form a government ) and the uprising in Syria it could take months before the Estonians are released
Mariann Sudakov, spokeswoman for the Estonian foreign ministry told AFP that her government was doing its utmost to resolve the case.
"Our goal is that the seven kidnapped citizens of Estonia are released," she said. "The Crisis Commission … continues to work with all involved agencies and international partners towards resolving the situation.
"Cooperation also continues with other Middle Eastern countries as well as European Union and NATO partners," she added.