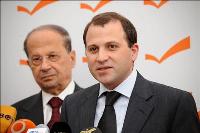 Media Against Violence issued a statement on Thursday condemning Energy Minister Gebran Bassil's action "in which he kicked out Future News television reporter Rabih Chantaf from the ministry on Wednesday" when Bassil was holding a press conference on the increase of gas prices.
"Bassil's decision to forbid Chantaf from entering the ministry is a militia act and shows Bassil's desire to turn Lebanon into a dictatorship, " adding Bassel behaved as if the ministry is his own private property ".
" The statement stressed that as a public official Bassel should have taken notes and answered the questions of Chantaf in a decent manner and that he should know that the ministry is a public property for all the Lebanese people ".
The statement also condemned Bassil's style in dealing with journalists, adding that "such a style is mastered by his father -in -law Change and Reform bloc leader MP Michel Aoun who holds journalists responsible for his failures and for the world's crises and attempts to keep them quiet."
Future News television reported on Wednesday that Bassil informed Chantaf that he is no longer allowed to enter the Energy Ministry building