Syrian tanks surround Ar-Rastan town (near Homs)
Syrian army tanks have been spotted gathering on the highway near Ar-Rastan, a town in Syria near the central city of Homs that has been a hotbed for anti-government protests.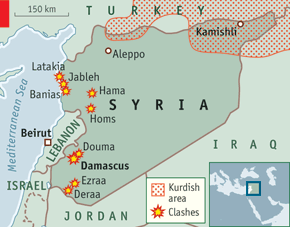 More than 100 tanks and troop transports were seen at the entrance to Ar-Rastan, AFP reports, citing activists in the area. The BBC reports that tanks were seen heading for Homs, citing local activists. Foreign media are banned from Syria, making it hard to confirm information about what is happening in the country.
On Wednesday, UN secretary-general Ban Ki-moon personally urged Syrian President Bashar al-Assad to end the crackdown, emphasizing his "deep concern" at the events in Syrian towns. In a phone call to Assad, Ban asked him to end the violence and mass arrests, to allow UN humanitarian teams into the worst-hit towns and to cooperate with an investigation by the UN Human Rights Council.
"The secretary general reiterated his calls for an immediate end to violence against and mass arrests of peaceful demonstrators," UN spokesman Martin Nesirky said in a statement.
The southern city of Deraa has so far been the epicenter of protests in Syria. In Ar-Rastan, residents have pulled down a statue of the late Syrian president Hafez al-Assad, father of the current president.
Anti-regime protesters have vowed to continue their efforts despite the crackdown. Activists say that more than 1,000 people have been arrested in Syria so far this week, AFP reports.
"We must continue our peaceful revolution throughout Syria until we achieve the freedom we demand," the committee coordinating anti-government protests in several cities told AFP.
According to Syria's Insan human rights group, more than 600 civilians have died since anti-regime protests began March 15 in Syria, and as many as 8,000 people have been arrested or are missing.
President Assad was quoted Wednesday in a Middle Eastern newspaper, Al Watan, as saying that military operations in Deraa will end "very soon," globalpost