France wants EU sanctions on Syria's leaders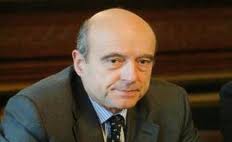 Foreign Minister Alain Juppe said on Tuesday that France wants the European Union to impose sanctions on Syrian leaders including President Bashar al-Assad in response to the violent suppression of pro-democracy protests.
"We are trying to act with our European partners," he told reporters. Asked if Assad should be included among targets of sanctions, he said: "That's what France wants."
Juppe criticized the brutal crackdown by the Syrian regime and said : "Any government that kills protesters loses its legitimacy ".
"Today there is this great hope for freedom and democracy. You must take this into account and putting it down by firing live rounds into crowds is unacceptable whichever country does it," he said.
Syrian authorities have arrested more than 1,000 people in their latest security sweep.
Ammar Qurabi, the head of the National Organization for Human Rights in Syria, said on Tuesday that his group had documented about 1,000 names of people who were detained across Syrian provinces in door-to-door raids since last Saturday.
The Red Cross on Tuesday urged Syria to immediately lift restrictions on access to casualties in Deraa, the epicentre of the crackdown on pro-democracy protests.
"The violence has resulted in a large number of casualties and we fear that if the situation worsens, more lives will be lost," Marianne Gasser, head of the International Committee of the Red Cross (ICRC) delegation in Damascus, said.
Agencies