Obama monitored Bin Laden operation from White House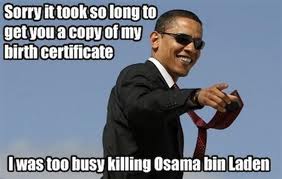 President Obama monitored the operation that led to the death of Osama bin Laden from the Situation Room on Sunday, a senior administration official said.
His national security advisor, Tom Donilon, Secretaries Hillary Clinton and Bob Gates, Joint Chiefs Chairman Adm. Mike Mullen and Director of National Intelligence James Clapper were also present in the Situation Room with him for the operation.
CIA director Leon Panetta was at the White House at several points during the day.
Vice President Biden was present from 1 pm until the operation was over, senior officials said. He made calls to several congressional leaders and also reviewed the president's remarks before he gave them.
In March, the president ordered his team to develop "several possible courses of action" for invading the Abbottabad site, according to the administration official.
The team brought several options to the president for review. Those options were "refined" over the course of the next several weeks.
The president did not authorize the bombing of the compound, the official said.
On Friday, the president gave the go-ahead for the Navy Seals to go in. The original plan was for them to go in Saturday but, due to weather, they changed it to Sunday.
At 1:45 pm Eastern, senior national security officials will join press secretary Jay Carney in the briefing room to talk about the operation that killed bin Laden. LAT