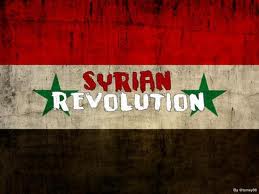 Distressed Syrians blocked in Jordan spoke on Tuesday of "a massacre" in their flashpoint home town of Daraa across the border, where a security crackdown has raged for two days.
"I was told that more than 200 people, including members of my family, have been killed (in Daraa). It is a massacre," screamed a man identifying himself as Masalmeh after contacting relatives from the north Jordan town of Ramtha.
Masalmeh, a Syrian merchant who arrived in Jordan on Sunday on business, fell to his knees and covered his face with his hands as he screamed.
Nearly 400 people have been killed by security forces firing live rounds and tear gas since the beginning of anti-regime protests on March 15, activists say, including 25 on Monday alone in Daraa, with scores of arrests reported.
Other Syrians stranded in Ramtha tried to comfort Masalmeh, as others, worried about their own relatives, tried to contact them.
"The fire and explosions have not stopped since dawn on Monday. Tanks are in Daraa. Armed men raided homes, killing people. It is a massacre, the world must help us," said one man who refused to reveal his name.
Another said "electricity and water have been cut off. Snipers fired at water tanks on roofs to prevent people from using them. Our families do not even have candles, and food is running out. It's a complete siege."
Residents complained that water and electricity had been cut throughout Daraa since dawn on Monday, when 3,000-5,000 Syrian troops backed by tanks and snipers rolled in.
Damascus on Monday denied a report from Jordan that it had closed its border crossings with the kingdom, but witnesses said Syria sealed off the Ramtha crossing, some five kilometres (three miles) from Daraa.
"The Jordanian border is open as usual. Anyone can leave from Ramtha but we have no information concerning the Daraa border crossing," a border official told AFP on Tuesday.
Syria has two border crossings with Jordan.
People who have tried to go to Daraa since Monday afternoon have been turned back, and witnesses said some Syrians were arrested at that border post.
"We heard explosions early this morning from Daraa," said Ahmad, a Jordanian merchant who travels to Daraa twice a week on business.
Residents in Ramtha, where King Abdullah II on Tuesday postponed a planned visit, said the Jordanian army has been deployed on nearby hills "to prevent infiltrations."
Witnesses spoke of hearing gunfire on the road between Jordan and Syria.
On Monday a Jordanian driver brought into the kingdom a Turkish man with serious gunshot wounds.
Travellers have also talked about the death of a Jordanian and his daughter on the Syrian side, but police could not confirm the information.
Amnesty International said tanks shelled civilian buildings in Daraa, commenting: "The Syrian government's brutal reaction to its people's demand for change has reached a new and outrageous low."
The operation in Daraa came four days after Syrian President Bashar al-Assad scrapped nearly five decades of draconian emergency rule and abolished the repressive state security court to pacify protesters demanding reforms and the fall of the regime.
"We condemn the killing of Syrian protesters. Assad should listen to his people and meet their reform demands," Jordan's Muslim Brotherhood said in a statement on Tuesday.
"Those who are responsible for the bloodshed must be brought to justice." Zawya