Ebadi: If Syria becomes democratic, Iran will lose its puppet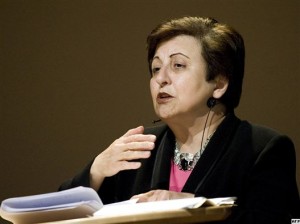 Iranian Nobel laureate Shirin Ebadi voiced hope on Saturday over the mass protests in Syria, saying that the fall of Tehran's main Arab ally would send a powerful signal to the Islamic regime.
"Democracy in Islamic and Arab countries, specifically Syria, will certainly affect democracy in Iran," Ebadi told AFP on a visit to Washington. "If Syria becomes democratic, Iran will lose its puppet."
Ebadi says Iran's heavy-handed state crackdown could be pushing the country toward a revolution.
Ebadi said the Iranian establishment has not shown any flexibility toward the demands of Iranians for change and said as a result, the country has become like a "fire under the ashes."
Ebadi, a jurist and rights advocate who in 2003 became the first Muslim woman to win the Nobel Peace Prize, faulted Iran's leaders for their focus on supporting Syria and other causes overseas.
"Muslims should help each other no matter where they are, but let's not forget that in Iran some 20 percent of people live under the poverty line," she said. "Shouldn't the hungry people of Iran be fed first?"
"Although Senegal is an Islamic country, Iran sends arms to Senegal in order to help the opposition and create a civil war, meaning Muslims killing Muslims," she said. "What does Senegal matter to Iran?"
She said the limitations on freedom of expression in Iran had expanded to such an extent that people are now being punished even for their thoughts, citing the six-year prison sentence given to prominent film director Jafar Panahi, who she said was tried and jailed for planning to make a documentary about the 2009 postelection unrest.
Ebadi called on the United States to put greater focus on Iran's human rights situation rather than on its murky nuclear program, and voiced her support for political sanctions rather than economic sanctions, which she said hurt ordinary people.
AFP, RFERL