MP Jarrah: Interfering in Syria's affairs is out of the question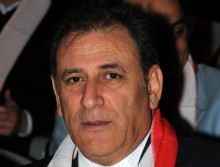 Lebanon First bloc MP Jamal al-Jarrah denied on Wednesday a Syrian state television report which was shown on LBC in which a man claimed that he received funds from Jarrah to create unrest in Syria.
The Syrian man claimed that he was allegedly told to incite demonstrations and instability in Syria with the aim of toppling the regime, according to the report of the state owned Syrian TV.
"We have neither the ability nor the intent to interfere in Syria's domestic affairs," Jarrah told LBC stressing "Interfering in Syria's internal affairs is out of the question"
"We do not allow anyone to interfere in Lebanese internal affairs. If Syria has a case to discuss, it can address the government and the judiciary through the Lebanese Ministry of Foreign Affairs." He said
The campaign accusing March 14 figures of involvement in Syrian unrest was launched from Lebanon and not from Syria, Jarrah also said, adding that some Lebanese media outlets are participating in this campaign.
"We know of the good ties between the March 8 camp and the Syrian regime," Jarrah stressed.
Jarrah added that he expects "more fabrications"" after outgoing Prime Minister Saad Hariri's statements over Iranian interferences in Bahrain."
In another interview with New TV on Wednesday he said: "The programmed Syrian confessions are aimed at tarnishing the image of a certain political camp"
Future denies
Future movement condemned the Syrian claims, stressing that it reserves the right to file a lawsuit against those who made such "baseless accusations against Jarrah."
It added in a statement that none of its MPs are involved in the developments in Syria, noting that it had repeatedly announced that it does not advocate meddling in Syria's internal affairs.
"The accusation is aimed at harming the fraternal Lebanese-Syrian relations and embroiling the Mustaqbal movement in affairs that don't concern it," it concluded.
Earlier on Wednesday, Syrian television broadcast confessions of a three-member terrorist cell involved in the recent unrest in some areas in Syria.
Muslim brotherhood
The leader of the alleged Syrian cell, Anas Kanj, revealed that he was in contact with Ahmed Audeh, a member of the Muslim Brotherhood, who frequently visited Lebanon, who also provided them with funds, arms, and equipment.
Kanj added that Audeh served as the mediator between him and Jarrah, who helped him and his family.
He had also pledged to provide them with advanced weapons.
NBN , al Manar
Speaker Nabih Berri's NBN and Hezbollah's al Manar have been spreading rumors about March 14 involvement in the anti regime protests in Syria .
NBN reported Wednesday evening that: "More terrorist cells will be unveiled in Syria over the next few hours and more dangerous confessions will be made."
Syrian president Bashar al Assad has been facing the biggest challenge to his rule. Popular protests demanding greater freedoms and an end to corruption erupted about a month ago in southern Syria and spread to the capital Damascus and most cities in Syria. Today Aleppo joined the protests for the first time.