International pressure mounted on Syria's president Monday, with key European governments and the United Nations denouncing a deadly crackdown that has failed to dampen a popular uprising against the authoritarian regime.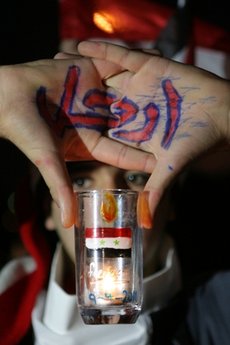 In the latest violence, security forces killed a student Monday during a protest at Damascus University in the capital, bringing the death toll to well over 170 after more than three week of unrest, activists said. There were conflicting reports about whether the student was shot or beaten to death.
The United States, France, Germany and Britain demanded an immediate end to the bloodshed.
"Reform and repression are incompatible," the French Foreign Ministry said.
The strong criticism marks a turning point because many major powers have so far held back on condemning President Bashar Assad outright, instead casting him as a reformer who has been constrained by members of his late father's old guard. U.S. Secretary of State Hillary Clinton said late last month that Assad is a a "different leader" than Libya's Moammar Gadhafi, and that many members of Congress who have visited the country "believe he's a reformer."
But with the mounting casualties, the criticism has grown.
"We're aware of continuing protests on a massive scale or a large scale," said U.S. State Department spokesman Mark Toner, speaking to reporters in Washington. He called on the government to lift restrictions on the media and "to refrain from any further violence against peaceful protesters."
Protests erupted in Syria more than three weeks ago and have been growing steadily, with tens of thousands of people calling for sweeping reforms in one of the most authoritarian regimes in the Middle East. The Assad family has kept an iron grip on power for 40 years, in part by crushing dissent.
The unrest could have repercussions well beyond Syria's borders, given the country's role as Iran's top Arab ally and a main backer of the militant Hezbollah and Hamas movements.
U.N. Secretary-General Ban Ki-moon personally called Assad to say he was "greatly disturbed" by the reports of violence.
The criticism from France was particularly significant, because French President Nicolas Sarkozy has been seen generally supportive of Assad in the past few years. He visited Syria twice in 2008 and 2009 and hosted Assad in Paris, helping ease Assad's international isolation in recent years. He also led an effort to restart stalled peace talks between Syria and Israel and tried to woo Syria away from the fold of regional power Iran.
A spokesman for German Chancellor Angela Merkel called the use of force against peaceful demonstrators "dismaying and outrageous." British Foreign Secretary William Hague called the violence "unacceptable," and said "political reform … is the only legitimate response to demands from the Syrian people."
Assad blames the violence on armed gangs rather than reform-seekers and has vowed to crush further unrest.
He has made a series of overtures to try and appease the growing outrage, including sacking local officials and granting Syrian nationality to thousands of Kurds, a long-ostracized minority.
But the gestures have failed to satisfy protesters who are demanding political freedoms and an end to the decades-old despised emergency laws that give the regime a free hand to arrest people without charge.
Abdul-Karim Rihawi, who heads the Syrian Human Rights League, said a wave of arrests was continuing.
He said Fayez Sara, a well known Syrian writer and journalist, was detained from his home Monday, while several other activists were picked up in the past few days.
On Monday, video footage posted online showed what appears to be plainclothes security forces beating protesters and forcefully pulling others away as they marched inside the campus of Damascus University.
"The Syrian people are one!" the students shouted in the video.
The reports that a student was killed could not be confirmed by The Associated Press due to severe restrictions Syria has placed on journalists. Ammar Qurabi, head of Syria's National Organization for Human Rights, said the student was shot. But Ausama Monajed, a London-based political activist, said the student was beaten to death.
Both activists cited eyewitnesses at the scene.
Also Monday, some 2,000 mourners chanting "Death is better than humiliation!" turned out in the port city of Banias for a funeral for four people killed there Sunday during an anti-government protest, an eyewitness said.
Assad inherited power 11 years ago at the age of 34 after the death of his father, Hafez, who ruled Syria with an iron fist for three decades. While Assad came to power promising reforms, internal challengers and regional upheaval have slowed down the reform process, including an old guard that fears an end to its privileges.
Syrians have seemed generally sympathetic to Assad facing an old guard clinging to power. But now, it seems, many have lost patience, inspired by Arab uprisings across the region. AP