Mubarak Is Hospitalized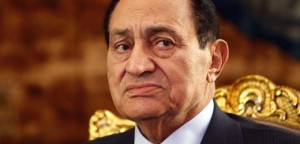 Hosni Mubarak, the former autocratic president of Egypt who was forced out by the revolution two months ago, was abruptly hospitalized on Tuesday in the beach resort of Sharm el Sheikh, security and military officials said. The reason for the hospitalization was not clear.
Mr. Mubarak, 82, has been staying in Sharm el Sheikh since he left office. His hospitalization came two days after he was told he would be questioned in connection with possible charges of corruption and other crimes.
Little is publicly known about the state of Mr. Mubarak's health, a taboo topic during his 30 years as the leader of Egypt, the Arab world's most populous country. As recently as 2007, a prominent newspaper editor, Ibrahim Eissa, was sentenced to six months in jail for publishing articles about Mr. Mubarak's health. Rumors have circulated that Mr. Mubarak has suffered from pancreatic and colon cancer.
On Sunday, Egypt's public prosecutor ordered the former president and his two sons, Gamal and Alaa, to be questioned in connection with a range of charges related to corruption and the use of violence against protesters during the country's Jan. 25 Revolution, which unseated him on Feb. 11. More than 800 people were killed during the three-week uprising, according to Egypt's health ministry.
Security officials said on Sunday that their interrogation of Mr. Mubarak would probably begin next week.
The prosecutor's move follows growing pressure from Egyptians to prosecute their former leader. Last Friday, tens of thousands of people rallied in Tahrir Square in Cairo calling for Mr. Mubarak to be tried and for his associates — including some members of the military council that now rules the country — to face corruption charges.
A hard core of protesters has remained in Tahrir Square since that rally. They erected a barricade of barbed wire in the square after clashes with security forces before dawn on Saturday left at least two people dead and dozens injured. NYT