Investigators impounded an Air France A380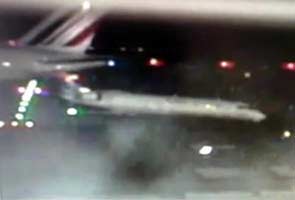 U.S. investigators have impounded an Air France A380 which collided with a smaller jet at New York's John F. Kennedy airport on Monday but the airline says transatlantic A380 flights will be unaffected.
The Airbus superjumbo, the world's largest jetliner with a wingspan of almost 80 meters, hit the tail section of a Bombardier CRJ regional jet which spun in a quarter turn on the taxiway, according to amateur video.
A CNN correspondent on the Air France flight to Paris reported that he felt a "slight rumble akin to hitting a patch of rough pavement" as the plane with over 500 people on board was moving on the ground at about 8:15 p.m. ET.
The correspondent said about a foot of the Air France superjumbo's left wing appeared to be damaged.
Air France confirmed the incident and said both aircraft had been "immobilised" pending an investigation. A spokeswoman declined to estimate the time and cost of repairs to the wing.
Air France, which flies five times a day to New York including one flight using the Airbus double-decker, will operate its daily A380 flight on Tuesday as normal, she said.
"Air France confirms an A380 operating flight 007 on April 11 between JFK and Paris-Charles de Gaulle, with 495 passengers and 25 crew on board, struck with its left wing the tail of a Comair CRJ-700 which was parking at JFK," the spokeswoman said.
"This collision caused only material damage. The two aircraft have been immobilised and the passengers were given accommodation or placed on (other) flights," she added.
Europe's largest airline has four Airbus superjumbos in its fleet but has switched to a smaller aircraft on flights to Tokyo due to a drop in demand following last month's Japan earthquake, leaving spare capacity to replace the A380 on New York trips.
It is due to take delivery of two more A380s in coming weeks and plans to add Washington, Montreal and San Francisco to its A380 network that includes New York, Tokyo and Johannesburg. Air France says it plans to restore Tokyo A380 flights in September.
Amateur video footage posted on Flightglobal.com showed the 70-seat regional jet operated by Delta subsidiary Comair rocking sharply to one side as the colliding A380 wing flipped it into an almost 90-degree turn to the left.
There were no reports of injuries. nationalpost