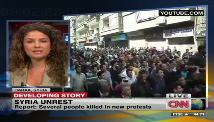 Syria's government declared Saturday its intentions to crack down hard on what it describes as violent unrest stirred by outside instigators.
"There's no more room for leniency and tolerance in enforcing law," the Interior Ministry said.
The tough statement comes amid a report of clashes in the western coastal city of Latakia on Saturday. A human rights activist said Saturday that hospital officials told him live ammunition was being used to disperse protesters.
Syria issued the statement after widespread protests on Friday, in and near Daraa and in Latakia, Banias, Qamishli, Homs, Douma, Moathamia, Daraya, Tal, and Hama.
Protesters have been saying that their peaceful outpourings have been met with force by Syrian security.
The National Organization for Human Rights in Syria, an activist group, has identified 37 people killed across the country on Friday. It said security forces used tear gas and live fire against unarmed civilians, made dozens of arrests, and raided homes. One witness said at least 22 unarmed civilians were dead in Daraa.
Wissam Tarif, a human rights activist, cited hospital officials as saying protesters in Latakia were being treated early Saturday for live bullet wounds. He also said funerals were scheduled in Daraa on Saturday for protesters who died Friday and said witnesses told him about arrests in Damascus and Aleppo.
But Syria blames instigators and saboteurs for infiltrating peaceful demonstrations and feeding violent confrontations. For example, the government said 19 security forces were killed in Daraa on Friday and dozens of others were injured in violence caused by "armed groups" firing at citizens and "unarmed security forces."
The government is aware of the widespread and international condemnation toward Syria, and its foreign minister, Walid al-Moallem, is explaining the government's position to foreign ambassadors in Damascus, according to the official Syrian Arab News Agency, or SANA.
The Interior Ministry noted that demonstrators have taken to the streets with demands swiftly tackled by the government, which announced decrees and responses to various grievances.
"However, there are some spiteful individuals, outsiders and those who were compelled by known foreign parties, accompanied by blatant instigation by satellite channels and internet sites, that didn't like the initiatives and the responses to the citizens' just demands that are being carried out," the ministry said.
The ministry said attackers have torched official establishments and military and security personnel "still committed to not opening fire" have been killed and wounded. It urged citizens to identify the "criminals" responsible and report them to authorities.
"It became obvious that these people do not want reform and are not concerned with popular demand or prohibiting the use of weapons, taking advantage of the latter and infiltrating demonstrators or people seeing off martyrs. They began to open fire randomly in order to cause a schism between citizens and security personnel," the ministry said.
Anti-government protests began in mid-March, with unrest first centering in the Daraa region and later spreading to other parts of the country.
Scores of people have died, and President Bashar al-Assad's regime has been criticized for the lethal force used against anti-government protesters.
U.S. President Barack Obama said in a statement on Friday that "It is time for the Syrian government to stop repressing its citizens and to listen to the voices of the Syrian people calling for meaningful political and economic reforms."
Amnesty International said unarmed people calling "for greater freedoms were reportedly attacked by security forces firing live ammunition."
"The alarming reports coming from Syria today show that the authorities have not altered their violent methods for dealing with dissent," said Philip Luther, deputy director of the Middle East and North Africa Program at Amnesty International.
Amnesty said on Friday that at least 171 people are believed to have been killed during the past three weeks of protest.
Abuses in Syria have long been alleged in the international arena, even before the demonstrations started last month.
The U.S. State Department's just-issued 2010 human rights report said Syrian security forces last year committed "unlawful killings, detained political and human rights activists, and tortured and physically abused prisoners and detainees with impunity."
Opponents of the government allege massive human rights abuses and are calling for political and economic reform. They also want the release of all political prisoners and an end to emergency law.
One demand has been the lifting of the country's 48-year-old emergency law.
The emergency law allows the government to make preventive arrests and override constitutional and penal code statutes. In effect since 1963, it also bars detainees who have not been charged from filing court complaints and from having a lawyer present during interrogations.
Al-Assad has indicated he is amenable to reforms and has formed a committee to study the lifting of the emergency law. He has also announced Syrian nationality for thousands of people in the country's Kurdish region who had been stripped of their citizenship and classified as "foreigners." CNN