Hezbollah torpedoes Lebanon Spiritual summit, report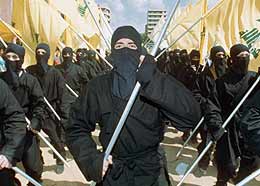 Kuwaiti newspaper al Seyassah reported that the call for a spiritual summit at Bkirki irritated Hezbollah and for this reason it rushed to torpedo it ( the summit ) by instructing Vice President of the Higher Shiite Islamic Council Abdel Amir Qabalan to veto any statement by the summit that will deal with the Special Tribunal for Lebanon ( STL) or the non-state ( Hezbollah ) arms.
Hezbollah also called called MP Walid Jumblatt and urged him to instruct Druze Sheikh el Akl Naim Hassan to do the same .
Hezbollah reportedly considers the idea of the summit came from caretaker PM Saad Hariri in order to reinforce the statement that was issued by the Sunni Dar al Fatwa which reiterated Lebanon's support for the Special Tribunal for Lebanon and rejected the presence of any non-state arms.
The newly elected Maronite Patriarch Beshara al-Rai has called for the summit.
Prime Minister-designate Najib Mikati held a meeting with the Lebanese spiritual leaders at his house in Verdun on Monday during which he stressed their role in" bridging the difference between the Lebanese in order to save Lebanon from the current crisis "
The Iranian and Syrian -backed Hezbollah brought down PM Saad Hariri's government on January 12 over the Special Tribunal for Lebanon's (STL) imminent indictment which is widely expected to implicate Hezbollah members in the assassination of former PM Rafik Hariri in 2005
Mikati was appointed in January as the PM designate with the backing of the Hezbollah March 8 alliance and MPs Walid Jumblatt and Mohammad Safadi . March 14 leaders have repeatedly said that intimidation from Hezbollah's weapons helped secure the parliamentary majority for Mikati's nomination.
Jumblatt and his PSP parliament members reportedly switched allegiance to Hezbollah's PM candidate, following threats by Hezbollah.
Jumblatt, Mikati and Safadi were all elected on March 14 electoral tickets during the 2009 parliamentary elections.
Hezbollah is now claiming the parliament majority and is reportedly making it very difficult for Mikati to form the cabinet by dictating to him who should represent the Sunnis in the cabinet and by backing MP Michel Aoun's demands for a disproportionate share in the cabinet