Baroud warns against exploitation of Roumieh violence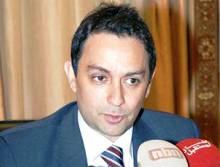 Caretaker Interior Minister Ziad Baroud warned Tuesday against any attempts to exploit the outbreak of violence in Lebanon's Roumieh Prison for political gains.
"Nobody should address the Roumieh incidents from a political perspective, because no one knows where such an approach's repercussions will lead," Baroud said during a press conference.
He admitted that the prison is overcrowded . It holds 3,700 inmates in and sometimes the number reach more than 4,000.
He also said only 721 of the prisoners are convicted, highlighting slow legal proceedings.
"We are all responsible for resolving the matter and no particular party should be blamed." He stressed and lauded Prosecutor Saeed Mirza for expressing readiness to speed up the trials.
He also said that there is a plan to allocate 500 million LL ( $330 ,000) in funding to improve prison conditions across the country. But he said the absence of a government and bureaucratic procedures were behind delays in the implementation of reforms on prisons.
"The plan exists and it is ready to be implemented, but the Interior Ministry cannot do it on its own"
Baroud also rejected any attempt to use violence against the inmates who are revolting at the Roumieh prison.
"We are taking the inmates' demands into consideration as long as they are within a lawful framework ."
Baroud also promised to take disciplinary measures against officers who had collaborated with the inmates. He unveiled that several politicians were demanding the Internal Security Forces not to hold the violators accountable but "we will."
Baroud – who represents President Michel Suleiman in the cabinet – also said that he is not seeking any ministerial portfolio in Prime Minister-designate Najib Mikati's upcoming cabinet and will continue to carry out his tasks as long as he is caretaker minister
The cabinet's formation is reportedly being delayed due a dispute between Suleiman and Change and Reform bloc leader MP Michel Aoun over the Interior Ministry portfolio .
Protests in Roumieh's Prison erupted again yesterday for the second time in 48 hours.
Families of the inmates blocked the Baalbek-Sharawneh and the Beirut airport and gunmen appeared on the streets , according to LBC TV. Baroud thinks that the protests are politically motivated.