Breaking News: explosion next to the Church of Our Lady in Zahle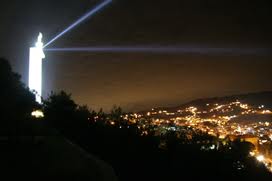 An explosion took place next to the Church of Our Lady in   Zahle industrial zone  at around 5 am Lebanon time , and led to damages to a number of vehicles  in  the area, in addition to damage to some nearby houses.  The  army cordoned  the area and began investigations
No injuries were reported
This is a breaking News report more to follow
Updates : The investigation revealed that it is a TNT bomb that weighs 2 kg ( 4.4 lbs)
– the bomb was placed in front of the entrance of the church
One person was injured . His name is Assad Bechara and was injured in his leg by glass shrapnel. Many windows of nearby houses were shattered as a result of the explosion
– The incident was widely condemned by the Lebanese leaders
-Former minister Elie Marouni regretted the incident and said this may be a message
– Former president and current Phalange party leader Amin Gemayel told VOL :We fear that the Zahle church bombing is the beginning of a series of attacks.
– Caretaker PM Saad Hariri called Syriac Orthodox Archbishop Boulos Safar to condemn the bomb attack against the Zahle church, stressing that all measures necessary would be taken to unveil the perpetrators and put them on trial.
– Shiite Sheikh Abdel Amir Qabalan said the attack on the Zahle church is a terrorist act aimed at igniting strife.
– Shiite cleric Sayyed Ali Mohammed Hussein Fadlallah also condemned the attack on the church. "The attack on the Syriac Orthodox church in Zahle is an aggression against all sects in Lebanon and is part of a plot aimed at dragging Lebanon into a state of chaos and instability." He said