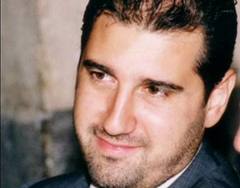 Syrian Revolution 2011 quoted France 24 as stating that the daily income of Rami Makhloof the first cousin of Syrian president Bashar al Assad is more than the salaries of 700, 000 Syrian workers.
Protesters in the Syrian town of Daraa have directed their wrath at Makhlouf, considered an emblem of corruption in Syria. They have chanted "Makhlouf you thief" .
In 2008, the U.S. Department of Treasury designated the 41-year-old Makhlouf as a person benefiting from corruption, and stated the following:
"Rami Makhlouf is a powerful Syrian businessman who amassed his commercial empire by exploiting his relationships with Syrian regime members. Makhlouf has manipulated the Syrian judicial system and used Syrian intelligence officials to intimidate his business rivals. He employed these techniques when trying to acquire exclusive licenses to represent foreign companies in Syria and to obtain contract awards.
Makhouf is the maternal cousin of President Bashar al-Assad and through this relationship, Makhlouf has become a focal point of Syria's telecommunications, commercial, oil, gas and banking sectors. Despite President Assad's highly publicized anti-corruption campaigns, Makhluf remains one of the primary centers of corruption in Syria.