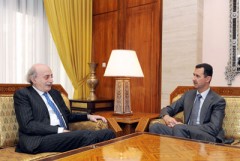 Despite the turmoil in Syria , the embattled Syrian President Bashar al-Assad met with Progressive Socialist Party leader MP Walid Jumblatt to discuss the issue of the Lebanese cabinet formation and the latest developments in the Arab world.
Jumblatt whose father was assassinated by the Syrian regime on March 16, 1977 and who was elected on the March 14 alliance tickets in the 2005 and 2009 elections has defected to the Iranian and Syrian backed Hezbollah-led March 8 alliance.
A number of Lebanese political figures have traveled to Syria recently as Prime Minister-designate Najib Mikakit, who was appointed with March 8's backing in January, is still trying to form his cabinet. Yesterday Marada Movement leader MP Suleiman Franjieh traveled Damascus to discuss the issue of the Lebanese cabinet formation
According to observers ,the Syrian regime is the main obstacle behind the formation of the cabinet . Assad is reportedly backing retired General Michel Aoun who has been demanding a disproportionate share in the cabinet and has been trying to prevent president Michel Suleiman from having any say in the cabinet formation.
One observer told Ya Libnan : "It appears that president Assad has better control over the situation in Lebanon than Syria.
Inspired by the wave of pro-democracy protests around the region, the uprising in the southern Syrian town of Daraa and several other nearby towns has become the biggest domestic challenge since the 1970s to the Syrian government, which is one of the most repressive regimes in the Middle East. Security forces and the Syrian army have responded with water cannon, teargas, rubber bullets and live ammunition.
More than 100 people were reportedly killed by police gunfire on Wednesday according to human rights activists and witnesses
"There are definitely more than 100 dead and the city will need a week to bury its martyrs," said human rights activist Ayman al-Asswad in Daraa, reached by telephone from Nicosia.
Ya Libnan was unable to independently confirm the number of deaths , since communications with Daraa are extremely difficult .
Deadly protests broke out in the southern Syrian town of Daraa last Friday , with scores of people reportedly dying in the last week after security forces opened fire on protesters.
The protesters are demanding "freedom" and an end to 48 years of emergency laws in Syria.
Justified
Syria will take very important decisions soon, an adviser to President Assad said on Thursday over the anti-government protests in Daraa.
"The demands of the people of Daraa are under study and concern. They are justified," Bouthaina Shaaban said. "The coming period will witness important decisions on all levels," she told reporters according to Reuters