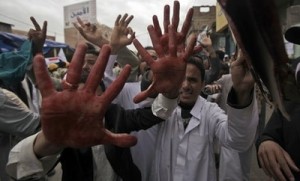 Yemeni Ambassador to Lebanon Faisal Amin Abu Ras has resigned over what he described as "Friday's massacre" in Sanaa which left 52 anti-regime protesters dead.
In a related development two prominent members of Yemen's ruling party resigned on Saturday in protest against the killing of dozens of anti-government protesters, while troops enforced a state of emergency in the capital.
Nasr Taha Mustafa, head of the state news agency and a leading ruling party member, said he had resigned from his post and the party in protest over Friday's killings of up to 52 protesters by rooftop snipers in the capital.
Another party member, Mohamed Saleh Qara'a, told Reuters he had also quit because of the "completely unacceptable" violence. The tourism minister and the head of the party's foreign affairs committee resigned on Friday.
Defying the crackdown, the opposition vowed to keep up its "peaceful revolution" in the poor Arabian peninsula state, a neighbour of Saudi Arabia and a U.S. ally against al Qaeda.
Photo: Anti-government protestors react at the site of clashes in Sanaa, Yemen, Friday, March 18, 2011. Yemeni security forces fired from rooftops at protesters as some tens of thousands of anti-government demonstrators gathered in central Sanaa, killing at least 31 protesters. (AP Photo/Muhammed Muheisen)