33 arrested Syrian protesters charged with 'weakening morale'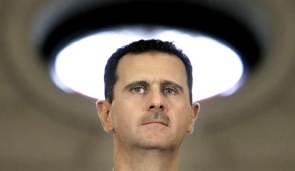 Syrian authorities have charged 33 activists who mounted a silent protest for the release of political prisoners with "weakening national morale and compromising the state," defence lawyers said.
The defendants were brought on Thursday before an investigative judge in the capital Damascus who asked them if they had participated in a demonstration on Wednesday "to compromise the state."
All entered pleas of not guilty, their lawyers said, and a pregnant woman whom a defence lawyer said was only a passerby was released without charge.
"The arrests were arbitrary and it is difficult to imagine that the trial will be any different," a defence lawyer said.
The non-violent demonstration by 150 people was the most serious public challenge to Syria's ruling hierarchy since uprisings deposed the autocratic rulers of Tunisia and Egypt and swept across the Arab Middle East.
Syria, a country of 20 million people, has been ruled since 1963 by the Baath Party, which banned opposition and imposed an emergency law that is still in force.
Demonstrations not organised by the state are unheard of, but on Wednesday the 150 protesters displayed pictures of political prisoners in front of the interior ministry.
Secret police attacked them with batons, wounding several and dragging away female protesters by the hair, witnesses said.
Almost 40 people were arrested at the scene. Six were released without charge.
The 33 facing trial include a man who had a fresh wound above his right eye, the lawyers said. They were brought in front of investigative judge Ahmad al-Sayyed at the Palace of Justice, 400 m (yards) from the protest site.
Among the defendants are political activist Suhair al-Atassi and rights lawyer Serene al-Khoury. Five relatives of prominent political prisoner Kamal al-Labwani, a physician serving 15-year terms for weakening national morale, also were on trial.
Labwani's relatives included his sister, a physician, and his son, a medical student.
There was no comment from the Syrian authorities. Officials have said political prisoners have violated the constitution, which was amended in the 1970s to include a clause terming the Baath Party as "leader of the state and society."
Syria has an estimated 3,000-4,000 political prisoners, most held without trial. They include Kurds, Islamists and secular figures who have been demanding a democratic system to replace the Baath Party's five-decade monopoly of power.