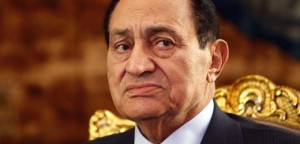 Will Hosni Mubarak travel to Germany as a patient as part of a graceful exit strategy for the Egyptian president? Plans for a possible hospital stay here appear to be more concrete than previously believed. SPIEGEL ONLINE has learned that a luxury clinic near Baden-Baden is being favored.
The United States government's scenario for an end to the political chaos in Egypt appears to be this: President Hosni Mubarak travels to Germany for a "prolonged health check" that would offer the 82-year-old a dignified departure. Over the weekend, the New York Times reported that secret talks to that effect were being held between the US government and Egyptian military officials.
According to information obtained by SPIEGEL ONLINE, plans for a possible hospital stay in Germany are far more concrete than had been assumed so far. Talks are already being held with suitable hospitals, particularly with the Max-Grundig-Klinik Bühlerhöhe in the southwestern town of Bühl near Baden-Baden, SPIEGEL ONLINE has learned from sources close to the clinic. The hospital management declined to comment.
The luxury clinic has an excellent reputation, as well as a respected oncology department, and says on its website it offers "first-class medical care" and the "comfort and service of a top hotel." Patients are accommodated in suites up to 200 square meters (2,152 square feet) in size. Former Ukrainian President Vickor Yushchenko and former Russian Economics Minister German Gref have been treated there.
In the past there have been rumors that Mubarak is suffering from cancer. During the spring of 2010, Mubarak had his gallbladder and an intestinal polyp removed in the Heidelberg University Clinic. Doctors in Heidelberg quashed the cancer rumors at the time.
Currently, Mubarak is residing in the Egyptian Red Sea resort of Sharm el-Sheikh in a holiday villa. Politicians from Germany's center-right coalition government under Chancellor Angela Merkel have said in recent days they were open to a hospital stay by Mubarak in Germany.
"We need a peaceful transition in Egypt. If Germany can make a constructive contribution in an international framework, we should receive Hosni Mubarak — if he wants that," said Andreas Schockenhoff, a senior member of Chancellor Angela Merkel's conservative Christian Democratic Union (CDU) party.
Elke Hof, security policy spokeswoman for the business-friendly Free Democratic Party, the junior coalition partner to the CDU, said: "I would welcome an early departure by Mubarak if this can contribute to stabilizing the situation in Egypt.