Obama: Talks over Egypt political crisis making progress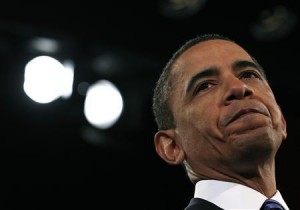 President Barack Obama said on Monday talks to resolve Egypt's crisis were making progress despite few concrete advances between President Hosni Mubarak's government and protesters demanding his immediate ouster.
"Obviously, Egypt has to negotiate a path and they're making progress," Obama told reporters while returning to the White House after a speech to a business group.
The United States has thrown its support behind a transition effort launched by Mubarak's hand-picked vice president, Omar Suleiman, urging all sides to allow time for an "orderly transition" to a new political order in Egypt, for decades a strategic U.S. ally.
Mubarak, 82, has refused calls to end his 30-year presidency before elections in September, saying his resignation would cause chaos.
The Obama administration has warned that attempts to force immediate change could require elections before the opposition was ready to fully participate.
The cautious U.S. approach came as Washington's planners tried to assess the impact of Egypt's crisis on Arab allies, some already facing similar unrest, and on Israel.
Egypt was the first Arab country to sign a peace deal with Israel and commands an important strategic position as the guardian of the Suez Canal and the Suez-Mediterranean oil pipeline, both important energy conduits for the West.
Secretary of State Hillary Clinton said on Sunday the Egyptian turmoil should not impede U.S.-led efforts to relaunch direct Israeli-Palestinian peace talks, but Israeli officials have expressed concern that any successor government in Egypt may follow a radical Islamist line.
Egyptian opposition groups, including the banned Muslim Brotherhood, held talks with Egyptian government representatives on Sunday but emerged saying their core demand for Mubarak's immediate exit had not been resolved.
Mubarak has said he will not run again for president, his son has been ruled out as next in line, a vice president has been appointed for the first time in 30 years, the ruling party leadership has quit and the old cabinet was sacked.
But protesters, barricaded in a tent camp in Tahrir Square in the heart of Cairo have vowed to stay until Mubarak quits and threatened more action on Tuesday and Friday.
Obama and other U.S. officials have sought to address concerns the talks may simply yield a transition to another authoritarian ruler, saying Washington would continue to press hard for real change. Reuters