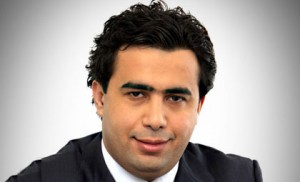 March 14 MP Okab Sakr said in an interview with LBC television on Thursday that the only condition to participate in the cabinet is for Prime Minister-designate Najib Mikati to step down from his position and be replaced by outgoing PM Saad Hariri because he represents the public and is supported by the Sunnis.
"I do not support the Future bloc's questions to Mikati because these questions were addressed to the wrong party. They should have been addressed to Hezbollah." Sakr said
The Future Movement MPs asked Mikati to clarify his stance on the Special Tribunal for Lebanon (STL) and the illegal weapons ( Weapons outside the control of the Lebanese army) , MP Fouad Siniora said last Thursday after the bloc met with Mikati for consultations on cabinet formation.
The March 14 alliance is reportedly demanding that Mikati, a political moderate with good ties to Syria, guarantee he will not disavow the tribunal.
Commenting on the form of participation in the cabinet , Sakr said
"I will criticize March 14 if it accepts to have the blocking third. I am against the blocking third because the March 14 would then become a party that obstructs."
Mikati, backed Hezbollah and its March 8 allies , was appointed by president Michel Suleiman as PM-designate to form and head the next cabinet , giving Hezbollah and its allies increased leverage in the country and provoking widespread protests.
The Iranian- and Syria-backed Hezbollah brought down Hariri's government on January 12 over the Special Tribunal for Lebanon's ( STL) indictment which is widely expected to implicate Hezbollah members in the assassination of former PM Rafik Hariri in 2005 .
Mikati held two days of talks with parliamentary groups on forming his government last week with the Hariri camp still refusing to join his administration. Now Lebanon
This error message is only visible to WordPress admins
Error: No connected account.
Please go to the Instagram Feed settings page to connect an account.