Geagea met Mikati last night over STL, illegal weapons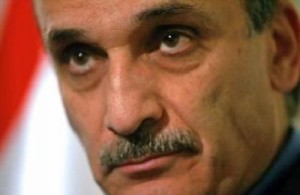 An Nahar reported that Lebanese Forces leader Samir Geagea met last night PM Designate Nagib Mikati on behalf of the March 14 alliance to discuss the issue of illegal weapons and the Special Tribunal for Lebanon.
Geagea reportedly told Mikati : "I'm not here in my personal capacity but I am here on behalf of March 14. He then confirmed the March 14 position over the issues of the Tribunal and the illegal weapons and explained them in detail and how they impact the political situation in the country. Mikati responded by saying that he is here to unify the viewpoint ion these issues
Geagea on his part reminded Mikati that both issues were discussed and agreed during the 2006 national dialogue talks.
The Iranian- and Syria-backed Hezbollah brought down Hariri's government on January 12 over the Special Tribunal for Lebanon's ( STL) indictment which is widely expected to implicate Hezbollah members in the assassination of former PM Rafik Hariri in 2005 .
MP Najib Mikati, backed Hezbollah and its March 8 allies including Jumblatt , was appointed last Tuesday by president Michel Suleiman as PM-designate to form and head the next cabinet , giving Hezbollah and its allies increased leverage in the country and provoking widespread protests.
The March 14 alliance is demanding that Mikati, a political moderate with good ties to Syria, guarantee he will not disavow the tribunal.