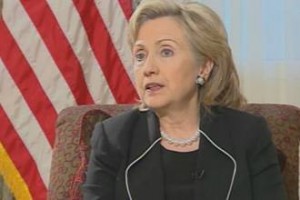 Secretary of State Hillary Rodham Clinton warned Tuesday that formation of a Hezbollah-dominated government in Lebanon will mean changes in the U.S. relations with the country.
The Obama administration is considering exactly how to respond to the new government forming this week in Beirut and has opened a review into its assistance programs to the country. Cuts or realignment to political, economic and military aid to Lebanon are likely if Hezbollah takes a major governmental role, officials said.
"A Hezbollah-controlled government would clearly have an impact on our bilateral relationship with Lebanon," Clinton told reporters at the State Department. The United States deems Iranian-backed Hezbollah a terrorist organization. The U.S. has imposed sanctions against the group and its members, who U.S. officials are barred from meeting.
Clinton spoke as a Lebanese politician backed by Hezbollah, Najib Mikati, was designated to form Lebanon's next government and lead it as prime minister.
Mikati defeated U.S.-backed Saad Hariri who was prime minister from 2009 until Hezbollah forced the unity government he led to collapse two weeks ago.
Clinton said the United States wants to see a government in Lebanon that reflects the will and independence of its people and does not represent outside interests, such as Syria and Iran.
The U.S. wants Lebanese government support for an international tribunal investigating the 2005 assassination former Prime Minister Rafik Hariri. Hezbollah wants to end cooperation with the tribunal that is widely expected to indict some of the group's members for the murder.
"Our bottom lines remain as they always have been," Clinton said. "First, we believe that justice must be pursued and impunity for murder ended. We believe in Lebanon's sovereignty and end to outside interference. As we see what this new government does, we will judge it accordingly."
A White House spokesman, Thomas Vietor, warned that decisions about the make-up of the emerging Lebanese government "should not be reached through coercion, intimidation, and threats of violence. Hezbollah, backed by Syria, engaged in all three to achieve its political goals."
Vietor said the tribunal is vital for "stability, security and justice in Lebanon."
"It is hard to imagine any government that is truly representative of all of Lebanon would abandon the effort to end the era of impunity for assassinations in the country," he said. AP
This error message is only visible to WordPress admins
Error: No connected account.
Please go to the Instagram Feed settings page to connect an account.