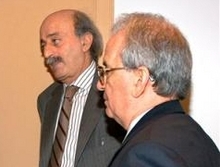 OTV reported that 5 members of MP Walid Jumblatt's Democratic Gathering parliamentary bloc met at the office of MP Marwan Hamade , prior to the expanded meeting of the bloc they all decided not to support Jumblatt in his backing of Hezbollah premiership candidate .
If OTV report is correct this means that Jumblatt , whose bloc consists of 11 members will only be able to deliver a maximum of 5 votes to the candidate of the opposition.
On the other hand the pro-Syrian New TV reported that Jumblatt promised to deliver 4 PSP votes and three from the rest of his bloc. New TV claimed that the opposition candidate now has 65 votes of the 128 member parliament .
One observer who was contacted by Ya Libnan commented on New TV report calling it "wishful thinking " on the part of the opposition
Prior to Jumblatt's press conference during which he officially announced that he and his PSP party will back Syria and the resistance ( Hezbollah), he headed a meeting of his parliamentary bloc . The meeting was attended by :
Transport, Public Works Ghazi Aridi, State minister Wael Abu Faour, Minister of Immigrant Affairs, Akram Chehayeb, MPs Aladdin Terru, Mohammad Hajjar, Elie Aoun, Henry Helou, , Fouad Saad, Marwan Hamadeh, Antoine Saad, Fadi El-Habr, Secretary General of the Progressive Socialist Party retired General Sharif Fayyad and PSP media official Rami Rayyes.
MP Nehme Tohme, who is also a member of the bloc did not attend because he is out of the country . Nehme is widely expected to support Hariri's candidacy