Qatari PM informs Saudi Arabia about results of Beirut meetings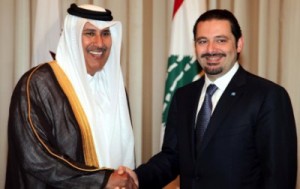 Qatari Prime Minister Sheikh Hamad bin Jassem bin Jaber al-Thani who is also the Qatari minister of foreign affairs called his Saudi counterpart Prince Saud al-Faisal to inform him about the results of the meetings held in Beirut to address the Lebanese crisis, NBN TV reported on Wednesday
Unconfirmed reports revealed that the Qatari PM may visit Damascus to discuss the Lebanese crisis.
Turkish FM Ahmet Davutoglu and Qatari FM met overnight in a secret location with Hezbollah Secetary General Sayyed Hassan Nasrallah . The talks reportedly focused on the political crisis, according to a statement by Hezbollah.
This is their second day of mediation . Yesterday they met with the top leaders of the country and today they are expected to make another round
Saudi Arabia has reportedly abandoned efforts to mediate in Lebanon's political crisis after Hezbollah quit the government last week.
Saud al-Faisal, Saudi Arabia's foreign minister, told the Saudi-owned Al-Arabiya TV in an interview on Wednesday that the Saudi king is "withdrawing his hand" from Lebanon.