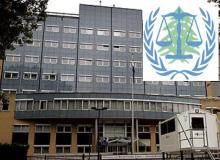 The prosecutor of the U.N.-backed Special Tribunal for Lebanon ( STL) will "imminently" send a draft indictment over the 2005 killing of former Prime Minister Rafik al-Hariri to the pre-trial judge, sources familiar with the case said on Friday.
Tension in Lebanon ahead of the indictment boiled over this week as the country's government collapsed when ministers from Lebanon's Shi'ite Hezbollah group walked out of Prime Minister Saad al-Hariri's coalition, testing political faultlines across the Middle East.
Speculation had been mounting that investigators at the Special Tribunal for Lebanon will indict Hezbollah members over the assassination, a prospect Lebanese politicians had already feared could spark a crisis and possible violence.
Sources told Reuters that the indictment will be sent to tribunal pre-trial judge Daniel Fransen for confirmation "imminently, saying it could "perhaps come as early as next week." It is now expected that the court will make an announcement when it has been filed.
Hezbollah has repeatedly denied any involvement in the killing. Its leader Sayyed Hassan Nasrallah said last year he will not allow the arrest of any of the group's members.
Newly-appointed tribunal registrar Herman von Hebel said last month the contents of the indictment, including the names of suspects, will stay sealed until confirmed by the pre-trial judge.
The prosecutor at the tribunal has declined to comment, saying again this week "the Office of the Prosecutor has no new information to share about the indictment at this time."
Once the indictment is lodged with the pre-trial judge, it could take about six to 10 weeks before a decision is made whether to confirm the indictment and issue arrest warrants, either under seal or by naming suspects publicly. Reuters